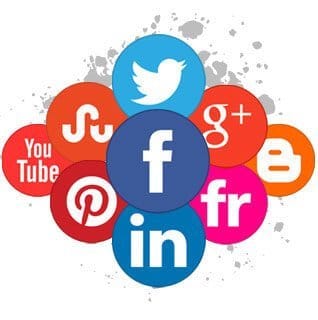 Today's marketplace is extremely competitive, and businesses have to take advantage of every avenue to connect with potential clients and convert them into loyal customers and brand ambassadors. Fortunately, thanks to the Internet, this is much easier now than it was just a few years back. The Internet offers tons of opportunities through which brands can interact with clients, but none is as versatile as the social media environment.
At Ginger Domain, we can help your business establish its online presence by employing a robust social media strategy tailored specifically to help you achieve your business goals. There are tons of benefits to be gained by engaging us as your social media marketing company in Mumbai, among them increased site traffic, increased brand awareness, lead generation and conversions just to mention a few.
Social media marketing encompasses a lot more than just opening a Facebook or Twitter profile for instance. If correctly employed, your social strategy can help your business realize better rankings on Google SERPs. In addition, it greatly contributes to your auxiliary marketing activities including reputation management, blog promotion, customer support and service and relationship building among others.
How we can build your business grow
At Ginger Domain, our core services as relates to social media marketing cover four main facets, which are:
Daily profile management including posting, monitoring comments and responding to comments and queries
Creation of high quality custom content that is highly sharable (with virality potential)
Stimulating interactive engagement with existing and potential fans and followers
Building your follower/fan base, not just by adding numbers, but rather actively seeking out a targeted base of potential customers.
We focus on all social media platforms including Facebook, Twitter, Instagram, Google Plus and Pinterest among others. Every profile is carefully created and nurtured in order to meet your social media campaign goals. We them use these profiles to meaningfully connect and engage with a carefully selected audience in order to maximize returns for your investment.
Using social media marketing Mumbai to reach out to new audiences
Creation of unique content
Our content creation strategy is about coming up with engaging content that your business/brand page will share from time to time in your various social media channels. Our strategy is to create content that is in line with your brand-audience engagement goal. Content creation has three main purposes:
Educating current and potential fans and followers about the brand
Inspiring them to complete a certain action e.g. visit your site or like your page
Offer value-adding and industry-related content to build interest in your brand
Ginger Domain has distinguished itself from all other similar companies because of our commitment to high quality and value adding content, including sharing videos and images which are in line with your brand colors and logo.
Customer interaction/engagement
Interactive engagement with existing and potential consumers is about reaching out to and interacting with people who could be potential buyers of your products/services. We do this by sharing content which has high likeability/virality potential to increase the number of comments, shares, likes and retweets.
Interactive engagement is also about participating in genuine conversations about industry related topics. This includes addressing problems/questions raised by your potential clients as well as meaningfully contributing to other kinds of discussions being held by your audience to humanize your brand before their eyes.
Building your follower/fan base
As your social media agency in Mumbai, we will work to build your base of followers and fans in two ways:
Organic building – following hundreds of industry-related people/profiles, using hash tagging, liking and commenting on user posts etc.
Paid advertising – selecting a targeted audience on Facebook to ensure that your posts are published to your targeted demographic.
Our aim is not just to increase your numbers by getting everyone to like your page. Rather, we work closely with your marketing department to identify a target demographic. These are the ones we reach out to since there's a greater chance that they will convert to users or your products/services.
Our Social Media Marketing in Mumbai Services
Facebook Management
Facebook is the leading social media network, boasting over 1 billion accounts worldwide with millions of daily users. Being a data driven platform, the Facebook team collects a lot of information about its users. This information can in turn be leveraged to create laser-targeted audiences. We can then tailor messages to suit the particular needs of your audience in order to increase the reach, likeability and shareability of your posts as well as traffic to your main site.
Our first step is to create a brand page with a complete profile and professional-looking appearance. From there, we will come up with a content sharing schedule, tailored to ensure maximum visibility each time we post. We will assign your page a dedicated account manager to respond to user comments and queries within the shortest time possible.
Twitter management
Twitter is the next biggest social network and a micro-blogging site which fosters one-on-one interaction with your target audiences. Our social media agency Mumbai will work hard to ensure that we interact with at least 10 people daily and post value-adding content. By doing this, your business can witness an increase of over 200 new followers every month.
Instagram management
Instagram works by using images to share your brand's story with follows. Because of this Instagram has the highest level of content engagement. Our team will work with you to post once or twice a day as well as engage with users who are also your consumers. We incorporate high-visibility hash tags in posts to increase the reach of all your posts, and can organically grow your audience by as many as 400 new followers.
Other networks
Depending on your line of business, your best social media marketing company in Mumbai Ginger Domain can open and manage profiles on LinkedIn, YouTube, Pinterest, Google Plus and other social and professional networks. The methods don't change: creation of high quality, custom content, engagement with your target audience and organic follower/subscriber growth.